Script / Screenplay Links:

creative screenwriting www.creativescreenwriting.com
Screenwriting tricks, magazine, events and resources.

hollywood scriptwriter (US) www.hollywoodscriptwriter.com
The trade paper for screenwriters.

inktip www.inktip.com
Writers resource.

praxis film www.praxisfilm.com
Centre for screenwriters, school for contemporary arts in Vancouver.

screen actors guild for indie filmmakers (US) www.sagindie.com

screenwriters utopia www.screenwritersutopia.com
Online writers magazine, forums, chat, interviews, script sales, screenwriting contests and reviews.

script-mag www.scriptmag.com
Script sales, news, screenwriting articles, community, contests, events and published magazine.

script-o-rama www.script-o-rama.com/
Different types of scripts, formats etc.

script-smart www.bbc.co.uk/writersroom/scriptsmart/index.shtml
Templates for scriptwriting.

simply-scripts www.simplyscripts.com
Links to hundreds of free, downloadable scripts, movie scripts, screenplays and transcripts.

writers guild magazine (US) www.wga.org
Writers resources, script writing software/links (commercial), register scripts online.

writers resource centre www.poewar.com/index.html
General help and tips for writers & writing.


Commissions (UK):

britshorts www.britshorts.com
Europe's premier short film studio.


General Pre-Production Links:

action, cut, print www.actioncutprint.com/home.html
Film and TV related resources, tips, free ezine for directors, film & TV bookstore. Large list of links to other sites.

backstage www.backstage.com
Actors resource and entertainment trade paper.

britfilms www.britfilms.com
Filmmakers resources, training/courses, news and events.

filmarts www.filmarts.org/grants/index.php
Film arts foundation grants in San Francisco (US).

international documentary association www.documentary.org

introduction to pre-production (audio) www.equipmentemporium.com/pre-prod.htm
Planning to record audio for film/video production on location and sets.

netribution www.netribution.co.uk/
Resource with UK national and international listings/links. Funding, events, production companies and much more.


Pre-Production Forms / Logs:

Click on an item below to open it in a separate browser window. The forms can be used as is, or reworked and adjusted to suit individual needs. More film/video forms / templates are included in the "production" section.

Storyboard - Shooting Script;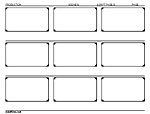 These forms are relatively self explanatory. Simple sketches can be used to work out shots and order along with dialogue and sound details. A story board can also be written hence the alternative term "shooting script".

Script Breakdown;





A useful form for taking script material and breaking it down to plot the needs of a shoot, scene by scene. A number of these sections may be unnecessary unless you have a large budget, so the form could be scaled down to suit individual productions and/or methods.


Software:

free filmmakers software www.filmmakerssoftware.com
From free software to all types of production forms to download.


Pre-Production (Sreenwriting) Software:

Screenforge www.apotheosispictures.com/Download.htm
For MS Word 6 & 95, 97, 98 and 2000 etc. Windows and Mac compatible.

Script Buddy www.scriptbuddy.com
Web based screenwriting software.

story design www.screenplay.com
Commercial story telling & screenplay format software.

writers store www.writersstore.com
Commercial software for writers.


Performers Consent and Release Form:

There are a variety of these. The detail and permission required depends on the type of contribution, its context and the intended use "exploitation" of the media.

For performers (non-actors) playing the part of a character would probably require "Performers Consent". Release Forms come into play when their could be an issue of copyright (poetic rights) in a performance/interview (or aspect of it).

Permission may not be required to film/video events, but consent/permission may be required depending upon how the finished film is intended to be exploited/distributed/broadcast etc.

Many independent film makers draw up their own release forms from examples they come across. However, if the project is intended for public/commercial use and there is some budget, it may be worth investing a small amount in getting tailor made release forms/contracts drawn up by a legal professional.

It is only when dealing with larger scale productions that the legal forms can become very comprehensive, especially if professional workers/performers/musicians and unions are involved.

The internet provides a wide range of examples of consent and release documents, but some books (listed in books/dvd) do have further examples worth looking at.

Included here is a simple "release form" in PDF form (6 KB), as a basic example (only intended as general reference). All consent and release forms should be drawn up with specific requirements and legal consequences in mind.


Film making Legal FAQ's www.filmcentre.co.uk/faqs_legal.htm

Following are further examples (only intended as general reference) in "RTF" Rich Text Format (right click and save target to download text document):

Actor Release Form

Group Release Form

Musician Release Form

All the release forms used here are examples, none are guaranteed accurate for individual uses.




Report broken links and missing resources.


Copyright © 2011 indefilms.net All rights reserved.