Script and Screenplay links are now included in "What's the Story ?" (Screenplay) section.








Casting:

spotlight (U.K)
www.spotlight.com
The home of casting.
General Pre-Production Links:

action, cut, print
www.actioncutprint.com
Film making tips for the Independent Film Maker.
backstage
www.backstage.com
Actors resource and entertainment trade paper.











Pre-Production Forms / Logs:

contract download samples (U.S) www.sagindie.org/resources/
Four sample forms (short film agreement, ultra low budget, modified low budget and low budget) detailing amounts of daily / weekly pay in dollars.


Click on an item below to open it in a separate browser window. The forms can be used as is, or reworked and adjusted to suit individual needs. More film/video forms / templates are included in the "production" section.

Storyboard - Shooting Script;



Jpeg image (39 KB)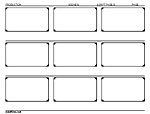 Jpeg image (27 KB)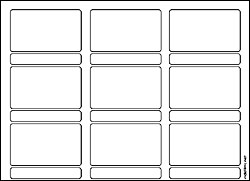 PDF format (822 KB)

These forms are relatively self explanatory. Simple sketches can be used to work out shots and order along with dialogue and sound details.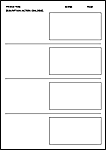 16:9 (1.78:1) storyboard PDF, JPG formats
(zip file size 144 KB, unzip size 284 KB)


Script Breakdown;



Jpeg image (47 KB)

A useful form for taking script material and breaking it down to plot the needs of a shoot, scene by scene. A number of these sections may be unnecessary unless you have a large budget, so the forms use could be scaled down to suit.


Various Production Templates:

Includes Budget, script layout, shotlist and storyboard templates. From Rode microphones competition entry download. Click here to download zip file. (zip file size 524 KB, unzip size 648 KB)


Consent and Release Forms:

(IMPORTANT: The following information and forms are for reference. They are not comprehensive legal documents to be relied upon without proper professional legal assistance.)

There are a variety of these forms. The detail and permission required depends on the type of contribution, its context and the intended use "exploitation" of the media.

For performers (non-actors) playing the part of a character would probably require "Performers Consent". Release Forms come into play when their could be an issue of copyright (moral rights) in a performance/interview (or aspect of it).

Permission may not be required to film/video events, but consent/permission may be required depending upon how the finished film is intended to be exploited/distributed/broadcast etc.

Many independent film makers draw up their own release forms from examples they come across. However, if the project is intended for public/commercial use and there is some budget, it may be worth investing a small amount in getting tailor made release forms/contracts drawn up by a legal professional.

The internet provides a wide range of examples of consent and release documents worth looking at.

Included here is a simple "release form" in PDF format (6 KB), as a basic example. All consent and release forms should be drawn up with specific requirements and legal consequences in mind.

Following are further examples in "RTF" Rich Text Format (right click and save target to download text document):

Actor Release Form (3 KB)

Group Release Form (2 KB)

Musician Release Form (2 KB)

Short Release Form additional section for minor/guardian (2 KB)


Venue Release Notice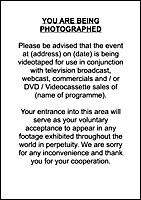 This is an example of a venue / event notice. It is to notify people at a venue that the event is being filmed and they will possibly appear in the final production. It is used when impractical, or unnecessary to get release forms for individuals. Public meetings would not necessarily require any clearance, or permissions. Click here to download the A4 notice in PDF format (33 KB). Click here for editable A4 RTF document version (4 KB).




For further production forms go to; Production


Further form templates are included with some of the DVD's in the Books/DVD's section. Click link to find out which books/dvd's include these.