'Shoestring' Features
Brief explorations into Independent (low budget) films and film making.


NEW A GHOST WAITS (2020)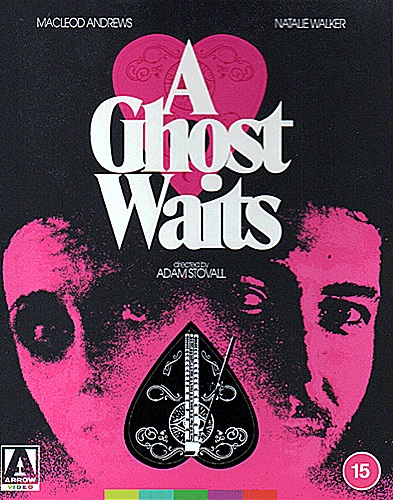 A 'micro-budget' mixed genre haunted rom-com drama. Written (with Matt Taylor) and Directed by Adam Stovall and featuring MaclLeod Andrews, who plays Jack, and also co-wrote the screenplay, and Natalie Walker, who plays Muriel.

'A Ghost Waits' was an official entry into FrightFest Glasgow, Rama Skrik, Dead And SudBuried Horrorthon, Scream Fest and Popcorn Frights Film Festivals in 2020.

Muriel haunts a house, and has successfully frightened many occupants out of the property. Jack works for the owner of the property Neal, played by Adam Stovall. Jack works as a 'fixer upper', employed to make sure the property is in good condition and ready for the next tenants to move in. Surprisingly he finds all the previous tenants possessions still in the house,

Very quickly strange occurrences start and Jack is confronted by Muriel in her 'scare the crap out of them' guise. However, over time the two develop a relationship which conflicts with what is expected of them both and a sweet heartfelt love story develops, rejecting conflicting outside influences.

This is mixed with a somewhat bureaucratic afterlife - in the vein of Beetlejuice – that dictates to Muriel what her purpose is. Circumstances and bureaucracy conspire to separate them, but they prove that love conquers all, along with death.

Although the film was shot in colour, it was released in black and white. The production took a few years to film and complete, with re-shoots over time. The result is a quirky, funny and touching film that doesn't depend on special effects.

'A Ghost Waits' is available on DVD (Blu-Ray) from Arrow Video.



PRIMER (2004)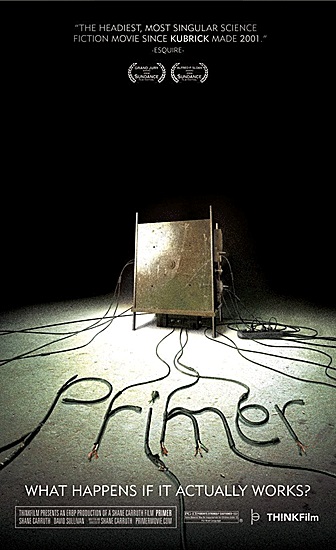 Primer is a SciFi film written, directed, produced, edited and scored by Shane Carruth who plays one of the two main leads. The film was made with a budget of $7,000, but has grossed around $842,000.

The plot and structure of the film are regarded as experimental. The film does not dumb down story line complexities, instead includes much technical language to explore the theories covered in the film.

The two main characters Aaron (Shane Carruth) and Abe (David Sullivan) accidentally discover time travel and build a time-apparatus (called 'the box') capable of transporting one human in time. Abe and Aaron initially use of the box to profit themselves through foreknowledge of stocks, but gradually notice the box has other effects on them, and eventually on their friendship. It becomes increasingly convoluted, with overlapping timelines.

Shane Carruth studied physics while writing the story/script to make the dialogue realistic. The film had a crew of five. Shane Carruth played the part of Aaron, while other cast members were made up of friends and family. Filming Primer took over five weeks and he film was shot on super 16mm. The story board for the film was made up of photographs taken on 35mm film. The limited budget meant that very few takes were shot, to save film. Post-production of the film lasted two years.

Primer and Shane Carruth received a number of awards, including Grand Jury prize at the Sundance Film Festival 2004.


Primer (2004) Official Trailer https://youtu.be/-vD-yj9o664

Primer (2004) - Trailer HD https://youtu.be/3nj5MMURCm8

Primer (2004) - Opening Scene https://youtu.be/ndHgNUuLKIM

Primer - The box https://youtu.be/2AfB1POoHZQ



DARK STAR (1970/1974)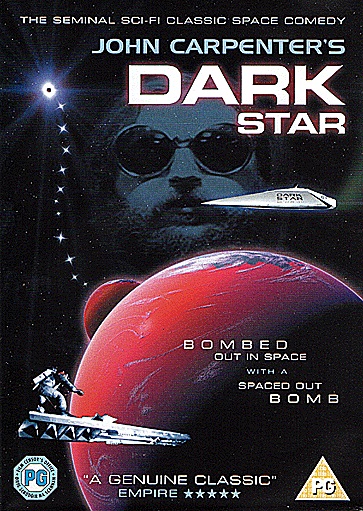 Dark Star is a SciFi comedy and became John Carpenter's (Halloween, The Thing, They Live) commercial film debut. Carpenter also plays the voices of Commander Powell and Talby in the film. Dark Star was written by both Carpenter and Dan O'Bannon (co-creator/writer of Alien). O'Bannon co-starred in Dark Star, and also played the voices of bomb 19 and 20. O'Bannon edited the film and worked on the visual effects.

'The Electric Dutchman' (original title) would eventually become 'Dark Star' and started as a student film 1970/1972 at the University of Southern California, Dark Star was significantly reworked in order to be released as a feature film in 1974.

Initially a 16mm production intended for an hour long student movie, with a budget of $1000 from the University of Southern California (USC), growing to $6000 from other sources. Dark Star went on to have substantial cuts made, a rewrite and new 35mm footage added at the insistence of Jack H. Harris (Producer, Distributor), who had obtained the distribution rights. O'Bannon eventually remarked "We had what would have been the world's most impressive student film and it became the world's least impressive professional film".

The USC claimed that film shot by students were automatically the property of the university, so John Carpenter literally 'liberated' the film negatives from the universities storage room. The university decided not to sue him, because they felt the film would eventually be good publicity for them.

Jack H. Harris handed over all the promotion and publicity (including making the trailer) of the film to a marketing company which turned out to belong to the mafia.

Dark Star includes a very early O'Bannon alien, which consists of a beach ball with monster gloves. However ridiculous this sounds the alien has quite a feisty personality.

The film has gained much popularity over time and garnered a cult status, partly because of the involvement of Carpenter and O'Bannon, who obviously went on to make significant names for themselves. Ron Cobb was a production designer on Dark Star and went on to work on major motion pictures, including Star Wars and Alien.

Sadly Dan O'Bannon passed away in 2009. Ron Cobb passed away in 2020.

Dark Star 1974 Trailer HD https://youtu.be/lwISbJfRNz0

Let There Be Light The Odyssey of Dark Star (long documentary, but well worth the watch) https://youtu.be/N8arhlWdTpg



UNFICTION / ARG - MYSTERIES AND ALTERNATE REALITIES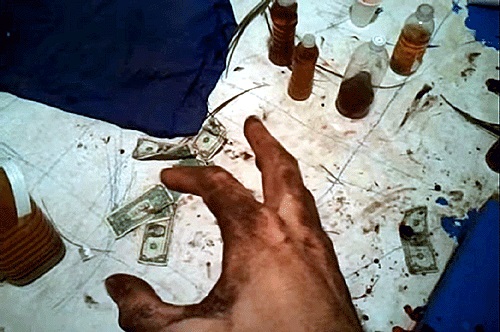 Social media platforms have given Independent Film Makers many more ways to make their films accessible for audiences. These ventures include what have become known as ARG's (Alternate Reality Games), or Web Series, originally known as 'unfiction'. Some use YouTube, some Twitter, others a mix of platforms to tell their stories.

ARG's can be - to varying degrees - interactive. Audiences playing a part in shaping a story's development. This interactivity can include cryptic clues, hidden links and puzzles viewers must solve to move on.

Often set in a real time world environment, audiences are participants, sometimes communicating with the protagonist and offering advice. Some have become extremely popular and gained audiences in their hundreds of thousands.

More recently some mainstream movies have promoted films through this format, to create interest in a film, and even give plot insights. 'The Blair Witch' (1999) was an early example, although not typically an ARG, more a device to uncover story background and exposition, using the feel and presentation of a real world event, giving the impression that the story was a factual account. One of the earliest known examples of what could be described as an ARG is 'Ong's Hat' (1980's).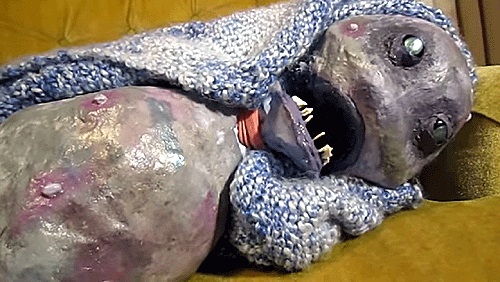 ARG's and Web Series can range from creative episodic story telling and puzzle solving, to bulk standard sensationalism, dependent on shock value to grab attention. Some have a goal and objective, others leave any interpretation open and unclear. Which of these is most satisfying depends on the viewer.

These forms of storytelling can go beyond more orthodox methods, but use the same tropes as mainstream genres such as Mystery, paranormal and Sci-fi. ARG's provide very effective ways for film makers to produce content with virtually no budgets, often with very little and basic equipment. Due to this new examples of ARG's are popping up all the time.

As mentioned with Blair Witch and other early entries, ARG's can be presented to trick viewers into believing that events portrayed could be real. Making the presentation more dramatic and shocking, like real life incidents caught on camera. 'Ash Vlogs' (2018/present - includes disturbing content) for instance is deliberately structured in this way. The outcome can be that when an audience realizes the documented events are not real, their interest in the story is peaked and fact or fiction is no longer relevant. Other entries are clearly fictional from the outset and rely on believable performances and creative storytelling to carry the audiences with them, such as 'Daisy Brown' (2017/2018) and 'Hi I'm Mary Mary' (2016/2020). These entries rely on novel presentation, not shock.


Certainly web series and ARG's are very practical and affordable vehicles for promoting and launching independent film productions, gaining funding, and to include as part of a Film Makers CV.

The examples included in this brief review vary greatly in content and subject matter. They only give a taste of the genre so far.

A few more ARG, web series entries not included above are;

'Alan Tutorial' (YouTube) 2011/2014

'The Sun Vanished' (Twitter) 2018 - present


A more detailed account of ARG; 'Wiki'



LA PLANÈTE SAUVAGE / FANTASTIC PLANET (1973)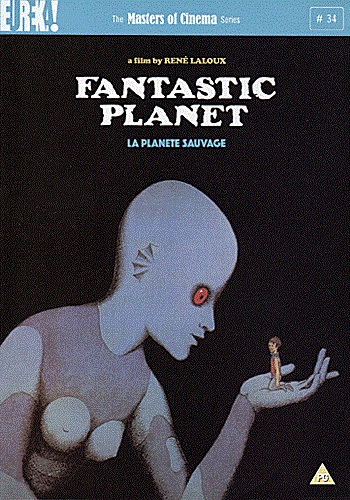 Fantastic Planet is a psychedelic dive into the surreal and nightmarish world of blue giants 'Draags' and tiny human-like 'Oms' on the planet Ygam. The Draags have kidnapped the Oms from another planet and keep them in captivity as pets. This view of the Oms as play things and toys brings with it a mix of indifference, cruel, or benevolent behavior from the Draags

The films narrator is an Om named Terr, and the story follows his life and eventual break out of captivity, subsequent revolt and final escape from the Draags genocidal reaction towards the rebellious Oms, now viewed as pests, and a threat.

Based on Stefan Wul's 1957 novel Oms en série (Oms by the dozen). The animated film was the creation of René Laloux titled Le Planète sauvage (The Savage Planet), who teamed up with writer and cartoonist Roland Topor. The collaborative French-Czech co-production took five years to complete. The animation used cut-out artwork to bring the creation to life. Le Planète sauvage won the special prize at 1973 Cannes Film Festival.

The English dubbed version of the film (for the US market) was produced by Roger Corman, and the title changed to 'Fantastic Planet' for distribution by New World Pictures. René Laloux died on 14 March 2004, aged 74. Roland Topor died on 16 April 1997, aged 59.

For more information about this film;

Mark Kermode reviews Fantastic Planet (1973) | BFI Player https://youtu.be/NBdRQo-OaGg

Fantastic Planet (1973) trailer https://youtu.be/SgCxCZNkQ9E

Sci-Fi Classic Review: LA PLANÈTE SAUVAGE https://youtu.be/KFwHCCES1do



THE LAST BROADCAST (1998)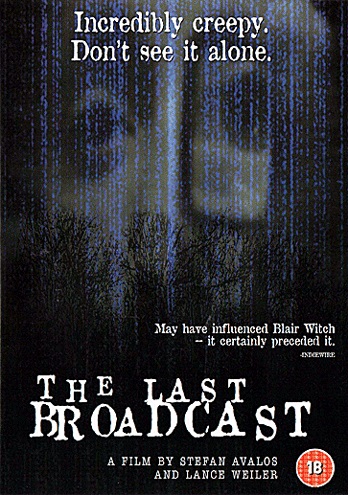 Back in 1998 Stefen Avalos and Lance Weiler released their film 'The Last Broadcast'. Touted as the first desk-top motion picture with a budget of $900. A feature film made with consumer equipment and early affordable computer NLE (Non-Linear Editing) software. It also became the first digital film to be premièred (on the 23rd October 1998) in a cinema using video projection. The filmmakers established another first when the film was played in a number of theatres via a satellite beaming the film to multiple venues and audiences.

The film and its production was a glimpse into the future of what has become normal in low budget accessible film production. Avalos and Weiler also used the internet to market and promote the film, exploring the story online to create an interest in the story and movies release.

Unlike practically all found footage, or POV films, The Last Broadcast ends with an original and surprising narrative twist.

Two shorts (links included below) from 1998 explore the background, people and methods behind making The Last Broadcast.

Making of "The Last Broadcast" https://youtu.be/q_Kb2xtwOS8

Stefan Avalos & Lance Weiler on "The Last Broadcast" https://youtu.be/Rw_J8TsvXSY


The Filmmakers

Stefan Avalos; www.stefanavalos.com

Lance Weiler; www.lanceweiler.com



TURNING TIDE (2019)

How We Made An Epic WW2 Movie On A Low Budget | The Making of Turning Tide https://youtu.be/TlnLPMPdUk0
A detailed look behind the scenes of all aspects involved in the making of 'Turning Tide' (2018) Written and Directed by Andrew Muir, Produced and VFX Supervisor David Ross.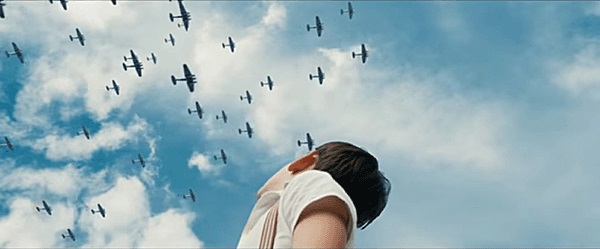 Growing up in wartime Scotland, ten-year-old David McKellar's life takes a dramatic turn when a massive German air squadron flies over his home on their way to a bombing raid. The situation rapidly escalates when they are intercepted by British Spitfires over the sea, resulting in a spectacular air battle in which one of the enemy bombers is shot from the sky.

As David watches from a nearby hillside, an injured pilot escapes from the sinking wreckage and makes it to shore, immediately going on the run. As the fugitive disappears further into the distance, the young boy must make the fateful decision on whether or not to follow... Watch the short film 'Turning Tide' here; https://youtu.be/6eYOZNjUqp4



Updates
Stock Footage link in POST PRODUCTION
'
Shoestring' Features. Low budget films past and present HOMEPAGE

Three free editing software download links in POST PRODUCTION

Screenwiriting software added to Screenplay

Make & buy your own Clapperboard added to Clapperboards

One International link (FilmFreeway) added to Festivals and Events

Eleven UK Film Festivals added to Festivals and Events

The EDITING section links and information have been moved to the POST-PRODUCTION section of the LINKS page.

Tutorials and Insights
(These tutorial and Insight links are included in relevant sections of the site as well)

The POV Shot — The Art of the Subjective Camera and "Point of View Shot" https://youtu.be/BLCQAmTleP0

Cable Wrangling 101 https://youtu.be/CDVjOVPlA68

What is an Anamorphic Lens? Spherical vs Anamorphic Lenses Explained https://youtu.be/9TtmhcOlOMY

Videographer vs DP vs Filmmaker https://youtu.be/rkSqyg_-GA8

Top 10 Microbudget Movies Ever Made https://youtu.be/M0GAZp0lj54

Depth of Field Explained: Ultimate Guide to Camera Focus [Shot List Ep. 4] https://youtu.be/ZGNUqNFfD8M

3 Brilliant Moments of Blocking (in Kurosawa's High and Low) https://youtu.be/LC8KYm85zig

How Kubrick, Spielberg, and Inarritu Stage their Scenes https://youtu.be/o-4rk3T8PbQ

The Difference Between Anamorphic And Spherical Lenses Explained https://youtu.be/hzuFRgSUIyU

How to Use A Film Slate https://youtu.be/dnXrtoEP40g

How To Slate Properly https://youtu.be/yFuqI7DJsEk

Save the Cat Beat Sheet — Interstellar Explained in 15 Beats (Script Ending Explained) https://youtu.be/N_JxIzYfZGM5

Lighting Concepts Every Cinematographer Needs To Know https://youtu.be/uAglas428D8

Cinematic lighting explained – Basics, tutorial and ultra mobile lighting kit https://youtu.be/YCPsy_LQqYc

Camera sensor and film size explained – From 1/3 inch over super35 to IMAX https://youtu.be/rUOYXjH6y7w

Aspect Ratios - Tomorrow's Filmmakers https://youtu.be/BdPsyLtlamM

The importance of sound. https://www.lafilm.edu/blog/the-importance-of-sound/

Film Sound. Learning Space dedicated to the Art of Film Sound Design https://filmsound.org/

Recording Audio For A Short Film - especially when the whole picture has to be shot in a day. https://www.soundonsound.com/techniques/recording-audio-short-film

Learn the 5 Fundamental Ways of Using Sound in Your Film. https://nofilmschool.com/2017/10/learn-5-fundamental-ways-use-sound-your-film

Filmmaking Tips for Better Audio with DSLR (Digital Single Lens Reflex camera). https://youtu.be/55XY1i9YRMw

Free Sound Effects (Attribution). https://soundbible.com

What Is a Film Makeup Artist? The Role of Makeup Artists on Film and Television Productions https://www.masterclass.com/articles/what-is-a-film-makeup-artist-the-role-of-makeup-artists-on-film-and-television-productions#what-is-a-film-makeup-artist

Makeup for Television and Film. http://www.cybercollege.com/makeup.htm

Getting the right shots and coverage. https://youtu.be/okphB85lfjk

5 Overlooked Tips for VFX. https://youtu.be/y3Kt1XfUHAo

Camera Gear: Every Type of Camera Rig Explained [The Shot List, Ep 5]. https://youtu.be/heJ9hWNb10g

Ultimate Guide to Camera Movement - Every Camera Movement Technique Explained [The Shot List Ep6]. https://youtu.be/IiyBo-qLDeM

Can you be an introvert Director? https://youtu.be/DEyFH-uzlGg

How to protect your screenplay with Shane Stanley. https://youtu.be/ARgZyWkkR2I

10 Lessons from top film editors. https://youtu.be/Ehvh5adVqMo

How to shoot a scene - blocking actors https://youtu.be/y9_LW5H2EC4